Storm makes waves in the optical media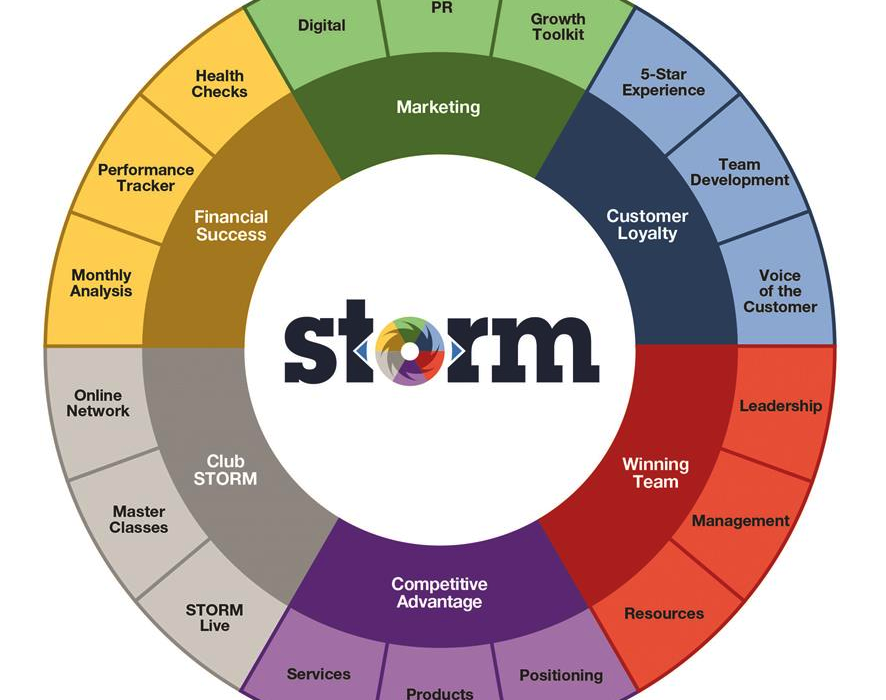 Our CEO Imran Hakim is in the news again as he prepares to shake up the independent optometric industry with his latest venture Storm.
Here's what Optician Online had to say about the exciting new launch:
Seven good guys riding into town to save the day against overwhelming odds is the enduring memory of John Sturges' classic 1960 western. While The Magnificent Seven had a remake in 2016, optics is also benefitting from seven big guns hoping to save the day – this time for independents.
The independent optical sector has been under pressure for a long time. While there has been no shortage of organisations offering help, many independent optical businesses are struggling. So what is different about Storm? Nick Browning, managing director of Storm explains: 'Everyone who is involved with the business has had similar thoughts regarding what the market needs and a fairly succinct idea of what that might look like'. Half of spectacle transactions take place in a Specsavers store and 15% in an independent practice, he added. 'An entire generation of the population has grown up knowing nothing but the type of eye care you get in the multiples.'
He says there is a push for better marketing but: 'There's no point driving patients into practices that are not equipped to deal with them. Where the customer service is shoddy, where the environment is woeful, where the equipment is not adequate, where the staff don't know how to communicate and where possibly the product selection is wrong and the pricing is not appropriate to either the customer base or the environment. So those are areas that we are clearly focused on. Improvement of the patient experience is an integral part of the programme but once we have made improvements we need to be able to measure the impact of those.'
The process might be a root and branch assessment of the way the business runs or honing some areas in which it is weak. Either way the process by which that improvement can happen is Storm, he added.
A man well used to turning businesses around is Imran Hakim, founder and owner of the Hakim Group. He is also a co-founder and partner in Storm and said much of the learning for the services on offer had been made by his experiences growing the Hakim Group.
Hakim says being a young group many of the processes have been set up by people from outside optics who have taken a fresh approach to the systems and technology. He said they questioned why things were being done in those ways and applied technologies from other markets. The templates used in those practice turnarounds were the starting point for Storm.
So has Storm grown from the Hakim Group? 'This is a very different approach,' said Hakim and pointed to the seven protagonists involved in the venture. 'This came from the people. All seven have had some sort of affinity or interaction over the past few decades with independent practices. Over the past two years all of us have been getting together every two weeks, without fail, with work being done between the two weeks to build, literally from the ground up, what you will see. Each of us brings a different perspective to the table. We all have different backgrounds.'
He echoes Browning's concerns that optics is becoming a multiple monoculture. 'We [the seven] all congregated and said the independent sector really needs looking at. Just see all the stats and how it has changed over the last couple of decades, it's quite sad really.' If that trend continues it becomes more and more difficult for independents. As the multiples take more and more market share there will be no choice left for the public about where they can go and have their eyes tested.
He says Storm's six elements delivered in the crucial areas that could achieve survival and success for independent practice. Hakim and Browning talk passionately about all six.
'There is a place for traditional marketing within independent practice today but we believe far more attention should be spent on digital,' says Hakim. 'It's poorly provided for in the independent sector and most eye care professionals are very weak in this area. Using modern technology you can literally amplify word of mouth marketing and automate it. Independents don't have a lot of time for this so there are tools that do that for them.'
On customer loyalty he asked if the patient experience is good enough. 'There's no point in doing anything else, that has got to be fixed first of all. Winning teams are about the development of the business owner to equip them to run a business properly and, as importantly, their team to ensure they have got the skills required to do the job they need to do.
'The biggest headache that practice owners always talk about is their people. With Storm we have a whole suite of products to create more people engagement within the business. They are all aware of what the destination is, what that purpose is and they are all on that journey together.'
'Competitive advantage is all about standing out from the crowd,' says Browning. Differentiation of services such as sports vision, schools vision, colorimetry. We have developed the business models for each of these and the training that is required to ensure that a practice which wishes to embrace one of these new services is able to do so. To understand how to price it and how to run it profitably.'
Hakim offered an example. 'You walk into a practice where the owner has only ever known that practice so the way they price up, the number of frames they put on display, how, after a period of time, they turn that stock or depreciate it, how they move it on. If you are in a multiple there is someone who does all that for you, gives it to you in a box, you take it out of the box and put it on the shelf. You do not have to think, that thinking is done for you. I have yet to come across a single independent practice where they have got that nailed, why? Because they have done it by trial and error. "Did that work? Yeah. Great, we'll do it again." There's no science.'
He says this was an 'art' for which Storm had put all of that learning together. Depending on turnover, position and customer base any practice can apply some logic to what they stock and how that stock is managed. He said the partners had devised a 'retail mastery' resource covering all aspects of running a business, refreshing stock and ordering. 'No one has done this before. That and the performance tracker are the two main things for me because I have seen the transformation in practices when you put those two things in. This isn't proscriptive. We are supplier agnostic,' he adds.
Communication is also important and that is achieved through Club Storm. 'We connect members of the Storm community through a combination of regional and national events, there'll be an annual retreat, regional master classes and monthly webinars. Most importantly we have created a communication platform that keeps all members of Storm connected, not only to one another, but to ourselves and also within the practices. Communication within practices is generally shocking.'
So far much of this may sound familiar but Hakim says Storm is different. 'I think the key difference between what we are doing and others is that our competitors shy away from really getting hold of the numbers.' By doing this Storm creates visibility and can create forecasts that makes the services offered by the practice accountable financially. 'Most practices have no idea whether they are making any money or not. Typically an independent practice only gains visibility on its profitability or otherwise annually, when the statutory accounts are completed by their accountant.
'That's nine months after the events actually happen,' says Hakim. 'So they are looking at a snapshot of a point in time and how much damage they have done in the last nine months? They have no idea.'
Ahead of its launch later this month Browning said the Storm team has been: 'wearing out shoe leather visiting practices. There is no substitute for sitting down with a business owner and understanding what is happening in that business and gaining a feel for whether that business owner has the appetite and the discipline and the desire to make the changes that will transform their business.'
For those interested, more detail will be available at the business sessions at next April's Optrafair in Birmingham where the key seven speakers will deliver their thoughts on different elements of successful practice.
In the meantime the search continues for the practices Storm hopes to take on in its first year. Not all practices are suitable, says Hakim. 'We have said no to practices already. We have said to practices you are not suitable for our programmes for a whole host of reasons. Some are beyond the tipping point of being saved.' Browning says that, while the online Storm resource centre will be open to anyone wishing to subscribe, the company plans to work at close quarters with just a fraction of the 2,500 to 3,000 independent practices in the high street. 'We are cherry-picking, we only want to work with businesses that have the right mindset. We want to work closely with 100 practices in the first 12 months. That is what we could service adequately.'
Change can bring pain and Storm says practices have to commit to providing the data required and making difficult decisions. 'If they are not prepared to do that,' says Hakim, 'we are fighting a losing battle because they have to be willing to change their behaviour. If you continue doing what you are doing, we can't help you.
'There is a huge swathe of business owners within our sector who want someone to come along and run their business for them, they don't want the hassle, they just want to test eyes. They want to own the practice but don't actually want to run it,' says Browning.
Much of the theory in the programme is not new but as ever it is all about implementation. Practice principals have to take the lead and have those difficult conversations. 'We have to deliver this,' concludes Hakim. 'We have to deliver this because if we don't we are talking about there not being any significant independent sector in 10 years' time. That's the reality.'
Who is Storm?
Seven experts have joined forces to bring a programme of support that touches key areas of independent practice. The seven: Imran Hakim, Gavin Rebello, Sarah Morgan, David Samuel, Nick Browning, Rob Hogan and Mark Draper all share a passion for independent practice. They hope to bring a combination of expertise spanning practice management, marketing, staff training, and operations to help businesses operate more efficiently and effectively so they can thrive as independents.
Storm will work with selected practices to optimise key areas of their business through coaching, for practices looking for a deeper-rooted improvement Storm offers its 'Transform in 12' year-long programme.
The grouping came about as a response to the growing pressure independent practitioners are facing and the need for support that goes beyond simple marketing. Its 'Transform in 12' offers a full business appraisal along with a business plan to implement the necessary changes
Storm's tools and resources are summarised on its wheel, pictured above, and cover six areas.
Financial success: tools to drive, control and measure financial performance with a real-time profit and loss report.
Marketing: marketing for growth covering social media and traditional routes.
Customer loyalty: includes mystery shopping and automated customer feedback technology.
Winning team: guidance, tools and templates that help you organise, optimise and care for your team.
Competitive advantage: strategies, models and templates to support differentiating practices from multiples and other
independents.
Club Storm: a networking platform that connects practices internally and externally."
If you're an subscriber to Optician Online, you can read the full article here