Hakim | 12/11/2019
Hakim Group Win National Business Award!
The Hakim Group has been recognised with a national prize at the EY Entrepreneur of the Year Awards at a ceremony in London.
CEO Imran Hakim was named the was named the winner of the Scale Up award, coming ahead of an impressive line-up shortlisted to the accolade, who each won their respective region's awards.
The awards celebrate successful and trailblazing businesses who make a positive impact on their society and the economy.
The Scale Up category specifically recognises businesses who are experiencing rapid growth.
This latest accolade reinforces that the Group has an award-winning culture at the heart of its success, which has seen it also named as the Sunday Times' Best Company to Work for in 2018.
Starting his first business at the age of 16 and later founding the Hakim Group in 2006, Imran has worked with a number of entrepreneurial initiatives, including the Prince's Trust Founders Circle, working with His Royal Highness Prince Charles to eradicate poverty across communities in Asia.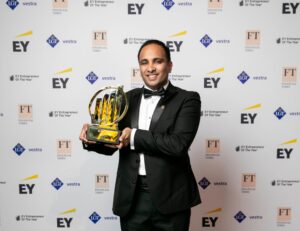 Some of Britain's best-known business figures are former EY Entrepreneur of the Year winners, including Stelios Haji-Ioannou, who founded the low-cost airline easyJet; Dragon's Den investor Peter Jones, who started-up Phones International Group; and Richard Reed, one of the founding partners of Innocent Drinks.
"When you get a group of people that share the same vision and are doing it together as a collective, great things happen," said Mr Hakim.
"As I walked up to collect this award amongst the very best businesses in the UK, I felt humbled by the dedication and proud of the commitment shown every day by our many teams.  To all of you, a heartfelt thank you for what you do every day, striving to be the best version of yourself that you can be, both in, and out of work".
"I am immensely proud of all our practice teams and everyone at HakimHQ. This award is dedicated to all of you who are part of the wider HG family, as well as one other very special person who is sadly no longer with us but his spirit as well as his values (Honesty, Ambition, Kindness, Industry and Meticulous) have certainly been the catalyst for success at HG.
"My late father came to the UK in the 60s with just 50p to his name. He worked two jobs to make ends meet and although didn't have the opportunity to pursue his entrepreneurial aspirations, made many sacrifices so that I could chase my dreams.
"When I started my first practice, I needed to borrow £2000 which my father lent me, I can still remember his words loud and clear…. he said, 'Son, don't let me down'.
"As I walked onto the stage, I could not help but feel emotional as I cast my mind back to those words from my father some 20 years ago. So this one is dedicated to you dad. I hope I didn't let you down!"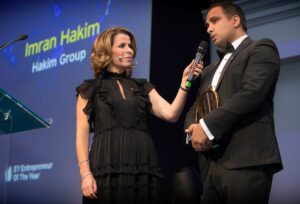 SOLVING THE COVID-19 PUZZLE
Hakim | 09/04/2020
The Hakim Group has been recognised with a national prize at the EY Entrepreneur of the Year Awards at a ceremony in London. CEO Imran Hakim was named the was..
Read Article